"What you do, in your own quiet way, can change people's lives for the better."
"Wayne or Lose" is the first episode of Powerless. It aired on February 2, 2017.
Emily Locke is hired as the new R&D director at Wayne Security, but finds the staff unmotivated and her boss only looking to move up the corporate ladder. Van Wayne, head of Wayne security announces that his cousin Bruce Wayne is going to shut down the company if they don't make effective products.
References & Easter Eggs
Edit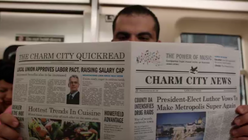 A newspaper article is briefly seen at the beginning of the episode with the headline: "President-Elect Luthor Vows to Make Metropolis Super Again". This is a reference to Donald Trump's presidential campaign, who vowed to make 'America great again'.

It is also a reference to the comic book storyline in 2000 where Lex Luthor became President of the United States.

While Emily is on the train, a sign for Soder Cola is seen in the background. Soder Cola is fictional carbonated soft drink, that has appeared in many DC Comic publications. It a spoof of the famous American soft drink, Coca Cola.
A Big Belly Burger logo is seen during a shot of Charm City. Big Belly Burger is a fictional fast food restaurant chain in the DC Comics universe. It also appeared multiple times on The CW's Arrow and The Flash.

The same shot shows a billboard for Blackhawk Airways. In the comics, Blackhawk is the superhero identity of an ace pilot, who fought for the Allies with his fabled Blackhawk Squadron. Many characters have taken up the mantle of Blackhawk including Janos Prohaska, Zinda Blake and Andrew Lincoln.

The number '5252' is seen on the train. This is a reference to the 2011's DC Comics reboot, The New 52.
Marc McClure portrays Emily's father. McClure is well-known for portraying Jimmy Olsen in Superman (1978), Superman II (1980), Superman III (1983), Superman IV: The Quest for Peace (1987) and Supergirl (1984).
Van calls Bruce Wayne 'quite a joker'. It is ironic, because Batman's nemesis is The Joker, and Batman is Bruce Wayne's alter ego.